P152845
Medium-Duty Cantilever Racks
Cantilever Rack Systems offer flexibility to custom-fit individual applications. The unique bolt together construction with welded steel components offer a great combination of strength and durability. Arms and uprights are sold each. Powder coat finish. All assembly hardware is included.
Medium-Duty Cantilever Racksare ideal for manual loading; open
design affords easy forklift accessibility. Store bar stock, pipe, tubing,
lumber and other light hard-to-stock items that must be kept off the floor. Arms are adjustable up and down the full length of the upright. To adjust align arms with pre-drilled holes and secure with key lock. All arms feature lips to prevent product from falling off. Uprights are sold separately, not in pairs. Custom rack systems can be designed for your special application.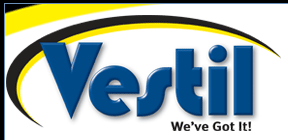 Most standard items by Vestil Manufacturing, are in stock and ready for immediate shipment.
Custom orders are our specialty and fabrication services are available on most items.
Call 800-757-1064 for pricing, availability and quantity discounts.
Click here to see more Cantilever Racks!
Prices and Availability Subject to Change
Single-Sided Cantilever Uprights
Product No.
Height
Base
Arms
Capacity (lbs.)
Wt. (lbs.)
Price Ea.
Quantity
MU-C-6-12
6'
25-3/8"
12"
8100
130

List Price:

$256.76


TODAY: $231.08

MU-C-6-18
6'
31"
18"
6600
135

List Price:

$262.24


TODAY: $236.02

MU-C-6-24
6'
37"
24"
5500
142

List Price:

$276.61


TODAY: $248.95

MU-C-6-36
6'
49-3/8"
30"/36"
4700/4100
150

List Price:

$304.20


TODAY: $273.78

MU-C-8-12
8'
25-3/8"
12"
7600
150

List Price:

$322.81


TODAY: $290.53

MU-C-8-18
8'
31"
18"
6300
155

List Price:

$350.41


TODAY: $315.37

MU-C-8-24
8'
37"
24"
5300
160

List Price:

$382.26


TODAY: $344.03

MU-C-8-36
8'
49-3/8"
30"/36"
4500/4000
170

List Price:

$403.24


TODAY: $362.92

MU-C-10-12
10'
25-3/8"
12"
7100
170

List Price:

$417.60


TODAY: $375.84

MU-C-10-18
10"
31"
18"
5900
175

List Price:

$433.10


TODAY: $389.79

MU-C-10-24
10"
37"
24"
5000
180

List Price:

$445.10


TODAY: $400.59

MU-C-10-36
10'
49 3/8"
30"/36"
4,400/3,800
190

List Price:

$516.73


TODAY: $465.06
Double-Sided Cantilever Uprights
Product No.
Height
Base
Arms
Capacity (lbs)
Wt (lbs)
Price Ea.
Quantity
MDU-C-6-12
6'
34"
12"
16,200
165

List Price:

$287.57


TODAY: $258.81

MDU-C-6-18
6'
46"
18"
13,200
175

List Price:

$338.22


TODAY: $304.40

MDU-C-6-24
6'
58"
24"
11,000
185

List Price:

$388.96


TODAY: $350.06

MDU-C-6-36
6'
82"
30"/36"
9,400/8,200
210

List Price:

$470.52


TODAY: $423.47

MDU-C-8-12
8'
34"
12"
15,200
185

List Price:

$370.25


TODAY: $333.23

MDU-C-8-18
8'
46"
18"
12,600
195

List Price:

$447.36


TODAY: $402.62

MDU-C-8-24
8'
58"
24"
10,600
205

List Price:

$512.38


TODAY: $461.14

MDU-C-8-36
8'
82"
30"/36"
9,000/8,000
230

List Price:

$537.71


TODAY: $483.94

MDU-C-10-12
10'
34"
12"
14,200
145

List Price:

$479.30


TODAY: $431.37

MDU-C-10-18
10'
46"
18"
11,800
155

List Price:

$547.63


TODAY: $492.87

MDU-C-10-24
10'
58"
24"
10,000
165

List Price:

$625.78


TODAY: $563.20

MDU-C-10-36
10'
82"
30"/36"
8,800/7,600
190

List Price:

$647.89


TODAY: $583.10
Straight Arms
Product No.
Arm Length
Uniform Capacity Per Arm (lbs)
Weight (lbs)
Price Ea.
Quantity
MSA-C-12
12"
1,000
10

List Price:

$30.81


TODAY: $27.73

MSA-C-18
18"
750
12

List Price:

$33.08


TODAY: $29.77

MSA-C-24
24"
600
15

List Price:

$35.25


TODAY: $31.73

MSA-C-30
30"
500
17

List Price:

$43.00


TODAY: $38.70

MSA-C-36
36"
400
21

List Price:

$44.04


TODAY: $39.64
10° Inclined Arms
Product No.
Arm Length
Uniform Capacity Per Arm (lbs)
Weight (lbs)
Price Ea.
Quantity
MIA-C-12
12"
1000
11

List Price:

$35.25


TODAY: $31.73

MIA-C-18
18"
750
13

List Price:

$36.39


TODAY: $32.75

MIA-C-24
24"
600
14

List Price:

$39.69


TODAY: $35.72

MIA-C-30
30"
500
17

List Price:

$49.62


TODAY: $44.66

MIA-C-36
36"
400
19

List Price:

$51.79


TODAY: $46.61
Brace Sets (includes two)
Product No.
Length
Net Weight (lbs)
Price Ea.
Quantity
MB-C-6-36
35"
26

List Price:

$92.52


TODAY: $83.27

MB-C-6-48
47"
38

List Price:

$95.82


TODAY: $86.24

MB-C-6-60
59"
44

List Price:

$104.71


TODAY: $94.24

MB-C-6-72
71"
50

List Price:

$136.65


TODAY: $122.98

MB-C-6-96
95"
64

List Price:

$150.92


TODAY: $135.83

MB-C-8-36
35"
28

List Price:

$104.71


TODAY: $94.24

MB-C-8-48
47"
42

List Price:

$105.84


TODAY: $95.26

MB-C-8-60
59"
48

List Price:

$108.02


TODAY: $97.22

MB-C-8-72
71"
52

List Price:

$130.03


TODAY: $117.03

MB-C-8-96
95"
66

List Price:

$153.09


TODAY: $137.78

MB-C-10-36
35"
30

List Price:

$105.84


TODAY: $95.26

MB-C-10-48
47"
44

List Price:

$109.05


TODAY: $98.14

MB-C-10-60
59"
50

List Price:

$111.32


TODAY: $100.19

MB-C-10-72
71"
54

List Price:

$135.51


TODAY: $121.96

MB-C-10-96
95"
68

List Price:

$160.84


TODAY: $144.76
Medium-Duty Cantilever Rack Kits
Product No.
Package Contents
Uniform Capacity Per Level (lbs)
Weight (lbs)
Price Ea.
Quantity
MU-C-6-24-SET
(2) MU-C-6-24 6' High Single-Sided Uprights, (1) MB-C-6-48 Brace Set,(4) MSA-C-24 24" Arms
1200
482

List Price:

$775.66


TODAY: $698.09

MU-C-8-24-SET
(2) MU-C-8-24 8' High Single-Sided Uprights, (1) MB-C-8-48 Brace Set, (4) MSA-C-24 24" Arms
1200
522

List Price:

$990.55


TODAY: $891.49

MDU-C-6-24-SET
(2) MDU-C-6-24 6' High Double-Sided Uprights, (1) MB-C-6-48 Brace Set, (8) MSA-C-24 24" Arms
2400
618

List Price:

$1150.35


TODAY: $1035.31

MDU-C-6-36-SET
(2) MDU-C-6-36 6' High Double-Sided Uprights, (1) MB-C-6-48 Brace Set, (8) MSA-C-36 36" Arms
1600
656

List Price:

$1392.74


TODAY: $1253.47