P152847
Heavy-Duty Cantilever Racks
Heavy-Duty Cantilever Racks are completely adjustable cantilever rack eliminates storage problems.
Long, unwieldy stock is handled quickly and efficiently by forklift; instant accessibility to one piece or a full load.Arms are adjustable up and down the length of the upright wherever there are pre-drilled holes. To adjust align arms with pre-drilled holes and bolt in. All arms feature lips to prevent product from falling off. Uprights and arms are sold separately, not in pairs. Custom rack systems can be designed for your special application.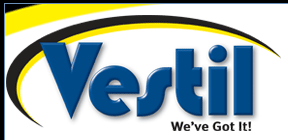 Most standard items by Vestil Manufacturing, are in stock and ready for immediate shipment.
Custom orders are our specialty and fabrication services are available on most items.
Call 800-757-1064 for pricing, availability and quantity discounts.
Click here to see more Cantilever Racks!
Prices and Availability Subject to Change
Single-Sided Heavy-Duty Cantilever Uprights
Product No.
Height
Base
Arms to Use
Capacity (lbs)
Net Weight (lbs)
Price Ea.
Quantity
HU-C-8-18
96"
31"
18"
24,700
260

List Price:

$622.57


TODAY: $560.31

HU-C-8-24
96"
37"
24"
21,500
270

List Price:

$634.66


TODAY: $571.19

HU-C-8-36
96"
49"
30"/36"
18,300/16,000
290

List Price:

$672.18


TODAY: $604.96

HU-C-8-48
96"
61"
42"/48"
14,200/12,800
312

List Price:

$710.64


TODAY: $639.58

HU-C-10-18
120"
31"
18"
24,700
288

List Price:

$764.69


TODAY: $688.22

HU-C-10-24
120"
37"
24"
21,500
307

List Price:

$806.56


TODAY: $725.90

HU-C-10-36
120"
49"
30"/36"
18,300/16,000
328

List Price:

$834.16


TODAY: $750.74

HU-C-10-48
120"
61"
42"/48"
14,200/12,800
350

List Price:

$859.48


TODAY: $773.53

HU-C-12-18
144"
31"
18"
24,400
340

List Price:

$841.91


TODAY: $757.72

HU-C-12-24
144"
37"
24"
20,900
348

List Price:

$881.50


TODAY: $793.35

HU-C-12-36
144"
49"
30"/36"
17,800/15,600
370

List Price:

$895.77


TODAY: $806.19

HU-C-12-48
144"
61"
42"/48"
13,900/12,500
390

List Price:

$913.44


TODAY: $822.10

HU-C-14-18
168"
31"
18"
23,400
380

List Price:

$923.37


TODAY: $831.03

HU-C-14-24
168"
37"
24"
20,200
390

List Price:

$948.78


TODAY: $853.90

HU-C-14-36
168"
49"
30"/36"
17,600/15,400
410

List Price:

$976.18


TODAY: $878.56

HU-C-14-48
168"
61"
42"/48"
13,700/12,400
430

List Price:

$997.16


TODAY: $897.44
Double-Sided Heavy-Duty Cantilever Uprights
Product No.
Height
Base
Arms to Use
Capacity (lbs)
Net Weight (lbs)
Price Ea.
Quantity
HDU-C-8-18
96"
53"
18"
49,400
275

List Price:

$597.15


TODAY: $537.43

HDU-C-8-24
96"
65"
24"
43,00
307

List Price:

$635.80


TODAY: $572.22

HDU-C-8-36
96"
82"
30"/36"
36,600/32,000
350

List Price:

$716.22


TODAY: $644.60

HDU-C-8-48
96"
106"
42"/48"
28,400/25,600
390

List Price:

$796.63


TODAY: $716.97

HDU-C-10-18
120"
53"
18"
49,200
300

List Price:

$683.15


TODAY: $614.84

HDU-C-10-24
120"
65"
24"
42,600
335

List Price:

$715.09


TODAY: $643.58

HDU-C-10-36
120"
82"
30"/36"
36,400/31,600
386

List Price:

$807.70


TODAY: $726.93

HDU-C-10-48
120"
106"
42"/48"
28,200/25,200
418

List Price:

$902.39


TODAY: $812.15

HDU-C-12-18
144"
53"
18"
48,800
350

List Price:

$793.33


TODAY: $714.00

HDU-C-12-24
144"
65"
24"
41,800
385

List Price:

$828.58


TODAY: $745.72

HDU-C-12-36
144"
82"
30"/36"
35,600/31,200
430

List Price:

$921.19


TODAY: $829.07

HDU-C-12-48
144"
106"
42"/48"
27,800/25,000
470

List Price:

$986.20


TODAY: $887.58

HDU-C-14-18
168"
53"
18"
46,800
390

List Price:

$1017.01


TODAY: $915.31

HDU-C-14-24
168"
65"
24"
40,400
426

List Price:

$1065.49


TODAY: $958.94

HDU-C-14-36
168"
82"
30"/36"
32,00/30,800
468

List Price:

$1163.58


TODAY: $1047.22

HDU-C-14-48
168"
106"
42"/48"
27,400/24,800
510

List Price:

$1251.75


TODAY: $1126.58
Straight Arms
Product No.
Arm Length
Uniform Capacity Per Arm (lbs)
Weight (lbs)
Price Ea.
Quantity
HSA-C-18
18"
2500
16

List Price:

$41.20


TODAY: $37.08

HSA-C-24
24"
2000
19

List Price:

$47.82


TODAY: $43.04

HSA-C-30
30"
1500
22

List Price:

$52.26


TODAY: $47.03

HSA-C-36
36"
1200
24

List Price:

$57.83


TODAY: $52.05

HSA-C-42
42"
1100
27

List Price:

$61.24


TODAY: $55.12

HSA-C-48
48"
1000
30

List Price:

$66.72


TODAY: $60.05
Inclined Arms
Product No.
Arm Length
Uniform Capacity Per Arm (lbs)
Weight (lbs)
Price Ea.
Quantity
HIA-C-18
18"
2500
16

List Price:

$48.48


TODAY: $43.63

HIA-C-24
24"
2000
19

List Price:

$49.62


TODAY: $44.66

HIA-C-30
30"
1500
21

List Price:

$57.27


TODAY: $51.54

HIA-C-36
36"
1200
24

List Price:

$60.58


TODAY: $54.52

HIA-C-42
42"
1100
27

List Price:

$70.50


TODAY: $63.45

HIA-C-48
48"
1000
30

List Price:

$83.73


TODAY: $75.36
Heavy-Duty and Extra Heavy-Duty Arms
Product No.
Arm Length
Uniform Capacity Per Arm (lbs)
Weight (lbs)
Price Ea.
Quantity
HDSA-C-36
36"
2175
26

List Price:

$70.50


TODAY: $63.45

XHDSA-C-36
36"
3400
26

List Price:

$89.21


TODAY: $80.29

HDSA-C-42
42"
1865
29

List Price:

$82.69


TODAY: $74.42

XHDSA-C-42
42"
2900
29

List Price:

$102.44


TODAY: $92.20

HDSA-C-48
48"
1630
31

List Price:

$90.44


TODAY: $81.40

XHDSA-C-48
48"
2500
31

List Price:

$109.05


TODAY: $98.14
Brace Sets (includes two)
Product No.
Upright Height
Length
Weight (lbs)
Price Ea.
Quantity
HB-C-8-3
96-120"
36"
29

List Price:

$73.81


TODAY: $66.43

HB-C-8-4
96-120"
48"
35

List Price:

$109.05


TODAY: $98.14

HB-C-8-5
96-120
60"
42

List Price:

$184.09


TODAY: $165.68

HB-C-8-6
96-120"
72"
54

List Price:

$201.66


TODAY: $181.49

HB-C-8-7
96-120"
84"
61

List Price:

$213.76


TODAY: $192.38

HB-C-8-8
96-120"
96"
69

List Price:

$241.35


TODAY: $217.22

HB-C-14-3
144-168"
36"
44

List Price:

$111.32


TODAY: $100.19

HB-C-14-4
144-168"
48"
54

List Price:

$206.11


TODAY: $185.50

HB-C-14-5
144-168"
60"
64

List Price:

$249.01


TODAY: $224.11

HB-C-14-6
144-168"
72"
84

List Price:

$269.99


TODAY: $242.99

HB-C-14-7
144-168"
84"
95

List Price:

$286.52


TODAY: $257.87

HB-C-14-8
144-168"
96"
107

List Price:

$304.20


TODAY: $273.78
Heavy-Duty Cantilever Rack Sets
Product No.
Package Contents
Uniform Capacity Per Level (lbs)
Weight (lbs)
Price Ea.
Quantity
HU-C-8-36-SET
(2) HU-C-8-36 8' High Single-Sided Uprights, (1) HB-C-8-6 Brace Set, (4) HSA-C-36 36" Arms
2400
810

List Price:

$1656.02


TODAY: $1490.42

HDU-C-8-24-SET
(2) HDU-C-8-24 8' High Double-Sided Uprights, (1) HB-C-8-6 Brace Set, (8) HSA-C-24 24" Arms
8000
890

List Price:

$1779.54


TODAY: $1601.59

HDU-C-8-36-SET
(2) HDU-C-8-36 8' High Double-Sided Uprights, (1) HB-C-8-6 Brace Set, (8) HSA-C-36 36" Arms
4800
1016

List Price:

$2024.10


TODAY: $1821.69