P1369
Vestil Dump Hoppers with Bumper Release
Click image to enlarge Vestil Self Dumping Hopper With Bumper Release
Features a 70° dump angle along with a hopper release bumper.
Superior engineering offers years of rugged surface.
Vestil Dump Hopper with bumper release dumps to an 70° angle as soon as the bumper is pushed. This style also returns to the locked position automatically after it dumps. A safety lock is standard on both styles to prevent accidental dumping. A locking chain is provided to secure the hopper to the forklift. Fork pockets measure 7 1/2" x 2 1/2".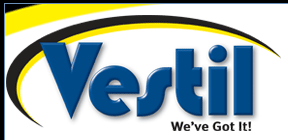 Most standard items by Vestil Manufacturing, are in stock and ready for immediate shipment.
Custom orders are our specialty and fabrication services are available on most items.
Call 800-757-1064 for pricing, availability and quantity discounts.
Click here to see more Dump Hopper!
Prices and Availability Subject to Change
BUMPER RELEASE STEEL HOPPERS
Product No.
Cap.
Cu. Yd.
Usable Size
W x D x H
Cap. (lbs.)
Steel Gauge
Fork Pocket Centers
Wt. (lbs.)
Price Ea.
Quantity
HD-100-LD
1
41-1/4 x 61 x 42-5/8"
2000
12
18"
460

List Price:

$890.00


TODAY: $801.00

HD-200-LD
2
56-1/4 x 69 x 52-3/8"
2000
12
28"
572

List Price:

$1125.22


TODAY: $1012.70

HD-300-LD
3
81-7/16 x 69 x 50-3/4"
2000
12
28"
898

List Price:

$1819.79


TODAY: $1637.81

HD-200-MD
2
56-1/4 x 61 x 52-3/8"
4000
10
28"
655

List Price:

$1197.04


TODAY: $1077.34

HD-300-MD
3
81-7/16 x 61 x 50-3/4"
4000
10
28"
898

List Price:

$1933.57


TODAY: $1740.21

HD-33-HD
1/3
26 x 52 x 38"
6000
8
18"
368

List Price:

$766.31


TODAY: $689.68

HD-50-HD
1/2
33-1/4 x 52 x 38"
6000
8
18"
415

List Price:

$838.13


TODAY: $754.32

HD-75-HD
3/4
31-1/2 x 60-1/2 x 43"
6000
8
18"
531

List Price:

$894.45


TODAY: $805.00

HD-100-HD
1
41-1/4 x 61 x 42-5/8"
6000
8
18"
563

List Price:

$1084.39


TODAY: $975.95

HD-150-HD
1-1/2
43-1/4 x 61 x 52"
6000
8
28"
662

List Price:

$1256.66


TODAY: $1130.99

HD-200-HD
2
56-1/4 x 61 x 52-3/8"
6000
8
28"
731

List Price:

$1445.47


TODAY: $1300.92

HD-250-HD
2-1/2
69-1/2 x 69 x 52"
6000
8
28"
844

List Price:

$1699.40


TODAY: $1529.46

HD-300-HD
3
81-7/16 x 61 x 50-3/4"
6000
8
28"
898

List Price:

$2017.49


TODAY: $1815.74
LIDS FOR STEEL HOPPERS
Product No.
Description
For Use w/Hopper Cu. Yd. Cap.
Wt. (lbs.)
Price Ea.
Quantity
HPLID-H-25
Use with Steel Hoppers "HH" Series
1/4
56

List Price:

$115.58


TODAY: $104.02

HPLID-H-50
Use with Steel Hoppers "HH" Series
1/2
57

List Price:

$140.34


TODAY: $126.31

HPLID-H-100
Use with Steel Hoppers "HH" Series
1
56

List Price:

$155.84


TODAY: $140.26

HPLID-H-150
Use with Steel Hoppers "HH" Series
1-1/2
61

List Price:

$199.12


TODAY: $179.21

HPLID-D-33
Use with Bumper Release Steel Hoppers "HD" Series
1/3
57

List Price:

$115.58


TODAY: $104.02

HPLID-D-50
Use with Bumper Release Steel Hoppers "HD" Series
1/2
57

List Price:

$140.34


TODAY: $126.31

HPLID-D-75
Use with Bumper Release Steel Hoppers "HD" Series
3/4
58

List Price:

$149.60


TODAY: $134.64

HPLID-D-100
Use with Bumper Release Steel Hoppers "HD" Series
1
57

List Price:

$155.84


TODAY: $140.26

HPLID-D-150
Use with Bumper Release Steel Hoppers "HD" Series
1-1/2
58

List Price:

$199.12


TODAY: $179.21

HPLID-D-200
Use with Bumper Release Steel Hoppers "HD" Series
2
59

List Price:

$209.51


TODAY: $188.56

HPLID-D-250
Use with Bumper Release Steel Hoppers "HD" Series
2-1/2
59

List Price:

$237.30


TODAY: $213.57

HPLID-D-300
Use with Bumper Release Steel Hoppers "HD" Series
3
61

List Price:

$264.13


TODAY: $237.72
CASTERS FOR STEEL HOPPERS
Product No.
Caster Size
Description
Cap. (lbs.)
Ctn. Qty.
Wt. (lbs.)
Price Ea.
Quantity
HHOP-SC6-2
6 x 2"
Semi-Steel
4800
4
28
HHOP-SC8-2
8 x 2"
Semi-Steel
4800
4
27
HHOP-RC6-2
6 x 2"
Mold-On Rubber
2400
4
27
HHOP-RC8-2
8 x 2"
Mold-On Rubber
2400
4
36
HHOP-PC6-2
6 x 2"
Poly-On Steel
4800
4
34
HHOP-PC8-2
8 x 2"
Poly-On Steel
4800
4
40