P1304
VESTIL SCISSOR DOCK LIFT
Click image to enlarge
Load and unload trucks without a dock with this hefty scissors lift.
Engineered for maximum safety and efficiency.
The Vestil Scissor Dock LiftSaves time and reduces manhours where there are no docks. Checkered plate deck is made of heavy gauge steel for hard use. Hydraulic unit features emergency automatic stop if line breaks. Complete with upper travel limit switch, and overload relief. Push-button control is 24 volt on 20' coiled cord. Prewired control box includes Magnetic Starter and overload fuse. High visible hand rails are removable. Built for years of daily use, with minimum maintenance. Standard 6.5 HP 208-230/460 V, 3-phase, 60 Hz motor. FOB Shipping Point.

Two Speed Pump
Replace standard pump with 2 speed and increase lifting speed by 55% when lift is unloaded.

Warning Beeper & Strobe
Sounds during the lift and lowering operation. 80 decibels.

Stop Signal Sign
Guides driver so truck will be properly positioned. Prevents damage to the truck door and scissor lift. Driver backs up until truck touches signal arm. Adjustable height and projection for different truck-to-dock requirements.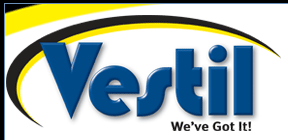 Most standard items by Vestil Manufacturing, are in stock and ready for immediate shipment.
Custom orders are our specialty and fabrication services are available on most items.
Call 800-757-1064 for pricing, availability and quantity discounts.
Click here to see more Scissor Lift!
Prices and Availability Subject to Change
HYDRAULIC TRUCK DOCK SCISSOR LIFT
Product No.
Cap.
(lbs.)
Platform
W x L
End Load Axle
Cap. (lbs.)
Lowered
Height
Lift Raised
Height
Wt. (lbs.)
Price Ea.
Quantity
HWL-100-5-68
5000
72 x 96"
3750
8"
68"
3007

List Price:

$9531.56


TODAY: $8578.40

HWL-100-5-78
5000
84 x 96"
3750
8"
68"
3256

List Price:

$10499.14


TODAY: $9449.23

HWL-100-5-610
5000
72 x 120"
3250
8"
68"
3373

List Price:

$10921.09


TODAY: $9828.98

HWL-100-5-710
5000
84 x 120"
3250
8"
68"
3577

List Price:

$11403.23


TODAY: $10262.91

HWL-100-6-68
6000
72 x 96"
4500
10"
70"
3198

List Price:

$9952.46


TODAY: $8957.21

HWL-100-6-78
6000
84 x 96"
4500
10"
70"
3122

List Price:

$10893.77


TODAY: $9804.39

HWL-100-6-610
6000
72 x 120"
4000
10"
70"
3489

List Price:

$11557.45


TODAY: $10401.70

HWL-100-6-710
6000
84 x 120"
4000
10"
70"
3588

List Price:

$11848.22


TODAY: $10663.40

HWL-100-8-68
8000
72 x 96"
6750
10"
70"
3946

List Price:

$13971.45


TODAY: $12574.31

HWL-100-8-78
8000
84 x 96"
6750
10"
70"
4142

List Price:

$14690.88


TODAY: $13221.79

HWL-100-8-610
8000
72 x 120"
6250
10"
70"
4357

List Price:

$15084.47


TODAY: $13576.02

HWL-100-8-710
8000
84 x 120"
6250
10"
70"
4463

List Price:

$15544.78


TODAY: $13990.30

HWL-100-10-68
10000
72 x 96"
8250
14"
72"
5354

List Price:

$16861.07


TODAY: $15174.96

HWL-100-10-78
10000
84 x 96"
8250
14"
72"
5541

List Price:

$17798.04


TODAY: $16018.24

HWL-100-10-610
10000
72 x 120"
8250
14"
72"
5587

List Price:

$18310.80


TODAY: $16479.72

HWL-100-10-710
10000
84 x 120"
8250
14"
72"
5774

List Price:

$18581.91


TODAY: $16723.72

HWL-100-10-612
10000
72 x 144"
8250
14"
72"
6054

List Price:

$19421.64


TODAY: $17479.48

HWL-100-10-712
10000
84 x 144"
8250
14"
72"
6240

List Price:

$19583.42


TODAY: $17625.08

HWL-100-12-68
12000
72 x 96"
9750
14"
72"
5937

List Price:

$18058.29


TODAY: $16252.46

HWL-100-12-78
12000
84 x 96"
9750
14"
72"
6123

List Price:

$19028.05


TODAY: $17125.24

HWL-100-12-710
12000
84 x 120"
9750
14"
72"
6357

List Price:

$19759.48


TODAY: $17783.53

HWL-100-12-810
12000
96 x 120"
9750
14"
72"
6543

List Price:

$20268.93


TODAY: $18242.04

HWL-100-12-612
12000
72 x 144"
9750
14"
72"
6648

List Price:

$20106.01


TODAY: $18095.41

HWL-100-12-712
12000
84 x 144"
9750
14"
72"
6775

List Price:

$20480.04


TODAY: $18432.04
HYDRAULIC TRUCK DOCK SCISSOR LIFT ACCESSORIES
Product No.
Description
Wt. (lbs.)
Price Ea.
Quantity
HWL-TSP
Two Speed Pump
-

List Price:

$670.19


TODAY: $603.17

HWL-WB
Warning Beeper and Strobe
-

List Price:

$558.68


TODAY: $502.81

HWL-SSS
Stop Signal Sign
19

List Price:

$139.96


TODAY: $125.96