P152846
Structural Cantilever Racking
Cantilever Rack Systems offer flexibility to custom-fit individual applications.
The unique bolt together construction with welded steel components offers a great combination of strength and durability. Individual components are sold separately to accommodate your requirements. Arms attach to upright with a "C" clamps that are infinitely adjustable. Capacity listed is for a pair of uprights.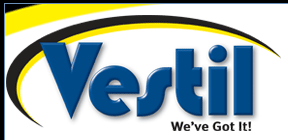 Most standard items by Vestil Manufacturing, are in stock and ready for immediate shipment.
Custom orders are our specialty and fabrication services are available on most items.
Call 800-757-1064 for pricing, availability and quantity discounts.
Click here to see more Cantilever Racks!
Prices and Availability Subject to Change
Single-Sided Cantilever Uprights
Product No.
Column Height
Arm Length to use
Capacity (lbs)
Net Weight (lbs)
Price Ea.
Quantity
SAC-812
96"
12"
18,000
121

List Price:

$488.10


TODAY: $439.29

SAC-824
96"
24"
12,000
135

List Price:

$508.03


TODAY: $457.23

SAC-836
96"
36"
9,200
145

List Price:

$538.94


TODAY: $485.05

SAC-848
96"
48"
7,600
168

List Price:

$585.33


TODAY: $526.80

SAC-1012
120"
12"
26,500
158

List Price:

$630.50


TODAY: $567.45

SAC-1024
120"
24"
16,600
175

List Price:

$651.58


TODAY: $586.42

SAC-1036
120"
36"
12,250
182

List Price:

$703.46


TODAY: $633.11

SAC-1048
120"
48"
9,500
205

List Price:

$728.88


TODAY: $655.99

SAC-1212
144"
12"
26,500
178

List Price:

$717.73


TODAY: $645.96

SAC-1224
144"
24"
16,500
193

List Price:

$740.88


TODAY: $666.79

SAC-1236
144"
36"
12,250
202

List Price:

$791.72


TODAY: $712.55

SAC-1248
144"
48"
9,500
225

List Price:

$818.18


TODAY: $736.36
Double-Sided Cantilever Uprights
Product No.
Column Height
Arm Length to use
Capacity (lbs)
Net Weight (lbs)
Price Ea.
Quantity
DAC-812
96"
12"
18,000
242

List Price:

$531.19


TODAY: $478.07

DAC-824
96"
24"
12,000
271

List Price:

$595.26


TODAY: $535.73

DAC-836
96"
36"
9,200
290

List Price:

$637.22


TODAY: $573.50

DAC-848
96"
48"
7,600
336

List Price:

$731.81


TODAY: $658.63

DAC-1012
120"
12"
26,500
316

List Price:

$693.54


TODAY: $624.19

DAC-1024
120"
24"
16,600
350

List Price:

$770.74


TODAY: $693.67

DAC-1036
120"
36"
12,250
365

List Price:

$802.78


TODAY: $722.50

DAC-1048
120"
48"
9,500
411

List Price:

$896.06


TODAY: $806.45

DAC-1212
144"
12"
26,500
357

List Price:

$783.97


TODAY: $705.57

DAC-1224
144"
24"
16,500
386

List Price:

$849.09


TODAY: $764.18

DAC-1236
144"
36"
12,250
405

List Price:

$890.00


TODAY: $801.00

DAC-1248
144"
48"
9,500
451

List Price:

$983.73


TODAY: $885.36
Straight Arms with Lips
Product No.
Arm Length
Uniform Capacity Per Arm (lbs)
Net Weight (lbs)
Price Ea.
Quantity
SSAL-12
12"
3,000
11

List Price:

$47.44


TODAY: $42.70

SSAL-24
24"
2,000
15

List Price:

$59.53


TODAY: $53.58

SSAL-36
36"
1,200
20

List Price:

$66.25


TODAY: $59.62

SSAL-48
48"
1,000
24

List Price:

$75.98


TODAY: $68.38
Straight Arms with No Lips
Product No.
Arm Length
Uniform Capacity Per Arm (lbs)
Net Weight (lbs)
Price Ea.
Quantity
SSAL-12-NL
12"
3,000
11

List Price:

$46.30


TODAY: $41.67

SSAL-24-NL
24"
2,000
15

List Price:

$58.50


TODAY: $52.65

SSAL-36-NL
36"
1,200
20

List Price:

$65.12


TODAY: $58.61

SSAL-48-NL
48"
1,000
24

List Price:

$72.87


TODAY: $65.58
Horizontal Brace Sets
Product No.
Column Height
Column Spacing
Braces Per Set
Net Weight (lbs)
Price Ea.
Quantity
HBS-83
96"
36"
3
24

List Price:

$91.67


TODAY: $82.50

HBS-84
96"
48"
3
30

List Price:

$98.28


TODAY: $88.45

HBS-85
96"
60"
3
36

List Price:

$110.38


TODAY: $99.34

HBS-86
96"
72"
3
41

List Price:

$177.76


TODAY: $159.98

HBS-10123
120" & 144"
36"
5
36

List Price:

$138.07


TODAY: $124.26

HBS-10124
120" & 144"
48"
5
48

List Price:

$157.92


TODAY: $142.13

HBS-10125
120" & 144"
60"
5
60

List Price:

$192.21


TODAY: $172.99

HBS-10126
120" & 144"
72"
5
72

List Price:

$288.23


TODAY: $259.41