P615
DOCK SHELTER
Click image to enlarge
A shelter with full height and width access to the rear of the trailer.
Ideal for trucks with varying heights, where the entire truck opening must be accessible for loading.
For use with doors up to 10' W x 10'H. Also reduces oversized doors to match truck opening. Long wear Vestex V-42 fabric is highly resistant to abrasion and tearing. Fiberglass staves are sewn in the panel. Seal is formed along the sides and top of the truck when the vertical and top panels are pushed inward by the truck. Supporting structure is made of 2 x 4 wolmanized lumber. Shelter is protected by safety yellow steel guide protectors. The top header piece measures 132"W and contains a drop curtain which measures 36"H. Two vertical pieces measure 126" tall with vertical flaps measuring 21"W. When installed the shelter will close door opening down to 90"W x 90"H opening (between flaps). Additional features include bottom corner draft pads, steel guide protectors and vertical guide strips on vertical flaps. FOB Shipping Point.

All Dock Shelters are not returnable.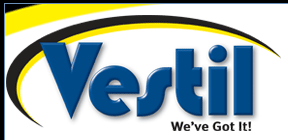 Most standard items by Vestil Manufacturing, are in stock and ready for immediate shipment.
Custom orders are our specialty and fabrication services are available on most items.
Call 800-757-1064 for pricing, availability and quantity discounts.
Prices and Availability Subject to Change
DOCK SHELTER
Product No.
Projection
Wt. (lbs.)
Price Ea.
Quantity
HD-750-18
18"
418

List Price:

$1350.71


TODAY: $1215.64

HD-750-24
24"
478

List Price:

$1428.70


TODAY: $1285.83

HD-750-30
30"
518

List Price:

$1510.05


TODAY: $1359.05

HD-750-36
36"
563

List Price:

$1585.40


TODAY: $1426.86
Thank you! Your request
has been submitted.
FREE SHIPPING
Thank you! Your request
has been submitted.
FREE SHIPPING